April 20, 2007
DR. GEORGE IS NYU STERN'S SATTER SOCIAL ENTREPRENEUR OF THE YEAR AWARD RECEPIENT FOR 2007
"Social entrepreneurship offers society the perfect marriage between tough-minded, bottom-line realities and the passion that goes beyond creating an economic profit. This is a marriage that excites me and has inspired me to support this new program at Stern."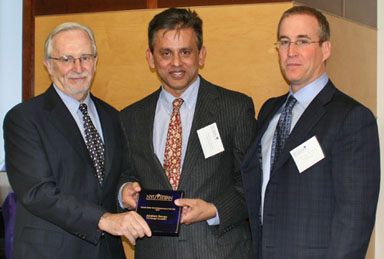 These are Stewart Satter's words in NYU Stern's Berkley Center for Entrepreneurial Studies magazine, The social entrepreneurship pipeline: educating and accelerating emerging social entrepreneurs states. The Satter Award honors a Stern affiliated social entrepreneur who has leveraged his or her Stern education to create innovative solutions to the world's most intractable social problems.

The magazine goes on to say, "We at NYU Stern think a great deal about how business can be a transformative force for social good." This is what Dr. George has always shared with the officers and staff of The George Foundation and particularly, with the children of Shanti Bhavan.

On the evening of April 12, 2007, at a well-organized Cocktail Evening in a hall at NYU Stern's Berkley Center for Entrepreneurial Studies, New York, Dean Thomas Cooley's opening remarks stressed the universal desire of everyone present to build better societies. He applauded Stewart Satter's personal interest and support of this humanitarian cause. Against a backdrop of slides of the children taken during Dean Cooley's visit to Shanti Bhavan, the Dean mentioned that visiting Shanti Bhavan was "a great moment in my trip to India." He went on to say, "It was the most inspiring, memorable and exciting part of my trip." Dean Cooley related his personal experience of the "energy, warmth, openness and intelligence of the children." He said the other projects of The George Foundation "displayed a range of ideas" and that the whole mission was "a creative undertaking."

Stewart Satter said, "It is with great admiration and respect" that he presented Dr.George with the Satter Award in the presence of
Dean Thomas Cooley, and assembled guests, including
Mrs. Mariam George, wife of Dr. George, and their sons, Ajit and Vivek. Lalita Law, Principal of Shanti Bhavan, was present. Professors, students, social entrepreneurs administrators and supporters applauded Dr. George on the occasion. This
well-deserved recognition of Dr. George's work through
The George Foundation in Southern India could not have occurred in a better setting. There is no greater feeling of accomplishment than to be recognized by one's Alma Mater.

While thanking Dean Cooley, Stewart Satter and the invited guests, Dr. George's response also embodied his belief and conviction in the empowerment of the rural poor by providing job opportunities through business. He said the rural poor do not need handouts. They want work. It is the responsibility of the business entrepreneur to ensure their workers' safety and fair wages. Dr. George said only vibrant economic activity can solve the problem of poverty. The rural sector offers opportunities for businesses to make money while doing social good. With rural economic activity and employment, the poor will be able to afford food, shelter, healthcare and education.

As a closing remark, Dr. George shared four of the Shanti Bhavan children's insights about the symbolism of common objects in relation to their individual lives. One child said a piece of stone symbolized her mother's love for the family because the mother broke stones to earn a living. Another said a bicycle represents the means to traverse a path that may go in any direction, just as the opportunity to be educated at Shanti Bhavan provides an opportunity to make something of their lives. A third child said a weed represents the tenacity of sticking to one's convictions or holding one's ground even if others try to uproot you. A fourth child showed a handful of sand that represented the poor millions but also the many who reach out to help and support them in the background, and whose faces might never be known.

The Satter Award ceremony at NYU Stern was memorable for its gathering of genuine people who strive daily to support innovative ventures that make the world a better place.

UPDATE OF EVENTS FROM SEP 2005 TO SEP 2006

Shanti Bhavan

The Church of Jesus Christ of the Latter Day Saints continues to support us through their Humanitarian Assistance program. Glen and Margene Erickson, Country Directors for India, and
Dr. Gary Lambert and Mrs. Peggy Lambert, both humanitarian volunteers (who are currently teaching English Literature and music at Shanti Bhavan), have recommended that Salt Lake continues its support. They are assisting us in procuring two commercial size washing machines to deal with our laundry needs at Shanti Bhavan. They have approved a container of hygiene kits and educational supplies, food items and clothing. We need to send our proposals on a regular basis.

Three volunteers, all business graduates from Wharton, University of Pennsylvania, USA, spent a fortnight in May to work with our eight graders. Irene Tse, Kerith Dilley and Felipe Arratia taught the children how to undertake SAT tests, how to make a business plan, about leadership and communication. Their efforts met with resounding success. We invited some of our staff who were on vacation to attend a day-long workshop with them.

Fay Prendergast, British, theater director from Torino, Italy, directed our School Day performance last year. We mourned her sudden passing this year. Her sister from the USA sent us a sum of money collected by Fay's friends for the Shanti Bhavan Endowment Fund, as Fay had wished.

Joseph Mathew whose film, Crossing Arizona, was an entry at the Sundance Film Festival in the USA last year, was hired by us to make a film on Shanti Bhavan. The purpose of the film is to raise funds, and bring about awareness of our unique long-term approach to solving the problem of poverty.

Committed and dedicated professionals from Europe and North America have spent from a month to three months working as volunteers with our children in various fields such as computers, academics, art, music, dance, sports and games. We have listed them individually in the Principal's quarterly report. Their contributions have been outstanding, and they have all positively enhanced our regular academic program.

Baldev Medical & Community Center

Dr. K.Vijayasagar , who is currently fulfilling his rural service requirement from St. John's Medical College, was appointed resident physician in October 1, 2005 .

Dr. Sagar's knowledge of Telegu and Kannada, the two main languages of the region where we are located, has helped bridge the communication divide. Our community service workers and
Dr. Sagar initially visited all the villages to introduce him to the communities. The initial patient response climbed to 400 per month after Dr. Sagar took over, and now the figure has climbed to 1,200 per month. Our medical center is currently serving rural people from the border areas of Tamil Nadu, Karnataka and Andhra Pradesh, mainly through our outreach program.

During an outbreak of Chikungunya, patients came from as far as Bangalore to be treated by Dr. Sagar at our center. With the increase in the number of patients being treated at our center, we are seeing additional revenue to cover some of the on-going operational expenses. Our charges range from free for the destitute, to minimal for the economically and socially disadvantaged sections of village society. Therefore, only when the community becomes prosperous (a measure of our success in contributing to economic improvement), our hospital will become financially self-supportive.

As part of our community outreach effort, Baldev Medical & Community Center has initiated an advisory committee for each village comprised of staff from The George Foundation and community representatives. Village project leaders and a village implementation teams are selected. Young adult girls and boys are selected for training programs to assess the needs of each village and to interact with all caste groups. Their requirements are evaluated, and approved projects executed with 20-50% financial and supervisory help from us, and the remaining from the community and the government. Dr. George participated in the final discussions at a meeting in October 2006.

The George Foundation provided the seed money to build a high school in the village of Deveerapalli. The plan was finally approved by the government and the high school was inaugurated in March 2006. Sri Balagangadharanatha Swamiji inaugurated the building. The Assistant Collector from Hosur, the Revenue Officer, Panchayat leaders and representatives, as well as other local officials were all present. Swamiji was very appreciative of Dr. George's personal contribution and effort. He asked the local communities to support and assist the work of The George Foundation.

Sister Cheryl Darsow, a senior and experienced nurse from the Mayo Clinic, USA, volunteered for a few days during her short visit to India. She was convinced about the efficacy of our community outreach program, and will make efforts to send medical supplies, nutrition supplements and health food for community distribution.

Baldev Farms

Part of our Baldev Community Training Program is aimed at equipping our young women laborers who have been promoted to supervisory levels, in basic management skills. We found that their challenge was to manage their fellow laborers – young women like themselves from below the poverty level. They are also trained in modern methods of agriculture such as drip irrigation, fertigation and use of machinery such as tractors.

The supervisory and management levels that each woman laborer is trained for are: Supervisor Trainee, Assistant Supervisor, Supervisor, Assistant Manager, Manager, and eventually, owners of their individual plots of land. Independent charge of each of our four farms is given to young boys and girls so that our senior managers can undertake new development activities.

We have made a major decision to move a major part of our banana production to 225 acres in an area near a dam with sufficient water. Only one part of the present total farm area will be retained for banana cultivation. The rest will be used for grape cultivation. Our long-term goal is to establish a winery for both domestic and export markets. Dr. George has visited vineyards and wineries in France and has talked to leading experts in
wine-making.

In order to address the welfare of our increasing numbers of farm staff, we are improving the existing living facilities in both dormitories and single housing units. We are also establishing family housing for our permanent staff. We are building many residences using ecologically friendly building materials.

We have improved the canteen facilities in order to provide tasty, nutritious, good quality food for our resident staff. We have trained two young men, one from Karnataka and the other from Assam, in cooking. Sporting activities, such as volleyball, are arranged every evening, and movies and other programs in different languages are available from the dish antenna that we have installed. The security group from North-East India monitors the farm and they have taken the initiative to use their spare time to do gardening, artwork and cooking. Bicycles and motorbikes have been provided for managers and workers to increase productivity.

The Foundation invested Rs.500,000/- in association with the
Tamil Nadu Panchayat Board to build two check dams for rainwater harvesting. We need farming subsidies in order to develop our existing farming projects that are exclusively for empowering women and poor people. Our application for government assistance for farming is pending approval. We are also inviting private individuals and institutions to collaborate with us as partners in farming.

Our proposal for the improvement of our training center for over 200 women farmers submitted to The Shell Foundation is still under consideration. It requires an investment of $1.5 million. Indian Bank has sanctioned $0.750 million with repayment guaranteed by our foundation. Shell wants to explore the export marketing potential of the produce and we are under discussion with them.

The Advisor to the Prime Minister of the Netherlands visited our projects with a senior colleague. Dr. Charles Wheelan,
Professor, Harris School of Public Policy, University of Chicago, visited our projects. He was with a group of thirteen postgraduate students, as part of their South Asian tour. They were interested in the women's empowerment program, particularly the dynamics of operation in the farming projects.

Dean Thomas Cooley of the Stern School of Business, New York University, visited. He appreciated the business entrepreneurship among the rural poor. He said he will try to send business graduate volunteers to assist us in training poor women.

Indian Institute of Journalism & New Media

This year, we went on a recruitment drive for students. We advertised in newspapers, magazines, educational fairs, and colleges in the major metros. 150 students applied for admission. Of these, 15 could not secure bank loans, and six withdrew their applications. We eventually enrolled 43 students.

We introduced radio broadcasting in the curriculum. Eight new high quality recording studios, air-conditioned labs and edit rooms have been added. High end flat screen HP computers have replaced the old computers for print, internet, radio and TV students.

John Thomas was appointed Vice-Dean. Kanchan Kaur is Associate-Dean for Academics, Nikhat Aslam is in charge of Television. Several new faculty members have also been appointed. For more details, please visit www.iijnm.org

Public Relations

Dr. George was featured on the cover of Stern Business School Alumni magazine. The lead article was about his professional achievements and his philanthropic work. It was an honor for all of us to see him chosen among many eminent people for this prestigious publication of his alma mater. Dr. George was interviewed by The New York Times in July this year. NDTV 24x7 featured S
hanti Bhavan in a prime time news segment twice this year.

Update of Events as of September 30, 2005

Shanti Bhavan welcomed its newest batch of Preschool students – 12 girls and 12 boys in June 2005. There are currently 180 children from preschool through eighth grade.

Recent eminent visitors included Andrew Whitehead, Director for the BBC, India , and senior managers of Infosys, Bangalore , including a Board Member. Joseph Joy and friends from Microsoft, Bangalore visited. The Chairman of Usha Martin, Mr. B.K. Jhawar and Mrs. Jhawar, visited. Former Joint Secretary, Mr. Shiv Kakodkar and his wife, Dr. Prabha Kakodakar, also visited.
Mrs. Edda Sehgal, wife of Mr. Suri Sehgal of the Sehgal Foundation also visited our project with her nephew, Mr. Jay Sehgal. Dr. P.V. Rao from Bangalore brought a team of dentists to inspect our children's dental health.

Titan Industries donated a sum of Rupees five lakh to the Shanti Bhavan Endowment Fund. Titan is the first company in India to support our cause.

Don Ringler of Creative Associates, USA , has been regularly sending books and moviesof classics for our children.

Five educational assistant volunteers from the U.S. and one theater volunteer from the U.K. enriched the learning experiences of our children in manifold ways – academics, sports, music and theater. Four medical volunteers for Baldev Medical and Community Center, gave our children several health sessions that were both useful and enjoyable.

School Day celebrations this year were in the form of a theater performance directed by Fay Prendergast, a British theater director from Italy . The theme was Shanti, which means Peace, and the children's presentation of drama, dance and song was entitled, A Peaceful Kingdom . All of our 180 children participated. The staff of Shanti Bhavan threw themselves into the preparation for the performance.

The construction of the extensions to Teachers' Quarters and the existing school building are both underway.

Baldev Farms is being expanded by 100 acres to cover 250,000 plants. Work has already begun and will be completed by the first quarter of 2006.

Socio- Economic Labour Welfare Schemes:

Self-Help Groups: Farm workers and all other workers of The George Foundation are being grouped into self-help groups called "Sanghas." These groups will help themselves in the areas of savings, taking loans, and utilizing credit and other subsidies available from the government and banks for their productive use. The George Foundation is using a significant part of the "profits" from the farm to purchase and develop 1/3 acre of land for cultivation in the name of each laborer.

Healthcare Initiatives: A healthcare program for all labor has been introduced. Each person is required to contribute Rs.500/- toward his/her healthcare each year, with the balance of the cost being subsidized by The George Foundation. This healthcare program consists of an annual checkup, de-worming every six months, providing iron and folic acid tablets to women particularly pregnant women and those of childbearing age, supply of protein powder to underweight women, children and the elderly, and bathing facilities on the farm premises at the end of the day's work.

Indian Institute of Journalism & New Media: IIJNM has started a new semester with 30 students of which 21 are women. They hail from different parts of the country including Ladakh. The majority has opted for the television curriculum.

Public Relations: Dr. George has featured in several TV, radio and print media productions over the past year following the publication of his most recent book, India Untouched; The forgotten face of rural poverty. The "forward" for the Indian edition was by Ralph Nader , the legendary consumer advocate and environmentalist in the U.S. The Indian edition was launched by the Union Minister for Finance, Shri P. Chidambaram, in Chennai.

The US edition of the book featured the "forward" by Thomas Friedman, the noted foreign affairs columnist for The New York Times. Thomas Friedman wrote about Dr. George and his work, particularly Shanti Bhavan, in his most recent book, The World is Flat: A brief history of the twenty-first century. In September, Dr. George was invited to participate in two major BBC TV and radio programs – The World Debate on the Millennium Goals, and in Who Runs your World?

Significant Events as of January 30, 2005.

The suddenness of the Asian tsunami onslaught that wrought havoc, death and destruction left Dr. George and all of us stunned and saddened. We have our children and staff from the worst-hit coastal areas on India's south-eastern coast – Nagapattinam, Pondicherry, Chennai and Cuddalore. Mercifully, all our staff and children were spared, but some families have lost relatives.

One of our children, Mani, of seventh grade, saw the tsunami wash people and dwellings away in Nagaputtinam. He and his family were saved because their home is on a small rise near the beach. They were anxious about his father who was away on work in Chennai when the tsunami struck. Luckily for them, he returned home alive. Mani's mother and father are still spending their time comforting and helping victims in the local hospital and in the area.

Dr. George immediately responded by directing our Chief Executive Officer, Jude Devdas, to dispatch whatever we could spare to the Red Cross and St. John's National Academy of Health Sciences, Bangalore. Our friends from the Latter-Day Saints Humanitarian Services, Dan and Ethel Caldwell, contacted us for supplies to be dispatched to Chennai where LDS is immersed in relief efforts. A truckload of clothing, medical supplies, food and blankets was sent before first light. Additional supplies were sent to Tuticorin. While the families of our children do not have the financial ability to contribute monetarily to tsunami relief efforts, our staff have collected funds, based on their ability to pay, which are being forwarded to the ISC administration for further distribution.

Simultaneously, Dr. George alerted the media and influential persons with strongly worded email accounts and figures to put pressure on the international community to immediately recognize the emergency situation on the Andaman and Nicobar Islands in the Bay of Bengal. His efforts seem to have paid off; several journalists and relief organizations contacted him, and he was able to brief them in greater detail.

At Shanti Bhavan, we enlisted the help of our children's parents in bringing orphans and children affected by the tsunami disaster for admission to our program. We wish to help those children who meet our criteria for admission that includes age (three and a half to four years), socio-economic status (below the poverty line) and age-appropriate development as determined by both the Shanti Bhavan clinical psychologist and pediatrician. We will give special consideration to children who are victims of the tsunami. We have also contacted social service organizations such as voluntary groups, churches and other NGOs to forward deserving children to us. Individuals have also come forward to identify children who might be suitable for free admission to Shanti Bhavan.

We admit a total of 12 boys and 12 girls – all four year olds -- in June each year. Screening of children for admission is carried out during the months of January, February, March and April of each year. Those who wish to bring children for screening may contact our head office in Bangalore at 080-2540164 or 080-2544170. Screening of children for admission is carried out on Fridays at Shanti Bhavan from 10 a.m. to 3 p.m. and on Saturdays at the head office of The George Foundation from 10 a.m. to 3 p.m. While admission is not guaranteed, we take special effort to identify tsunami victims who qualify for our program based on our normal selection criteria.

Television Journalism at IIJNM

IIJNM introduced broadcast journalism in the area of television as one of its course offerings from the commencement of the new academic year in July 2004. Students learn basic television reporting skills and how to shoot news stories. They will also learn television editing and news presentation skills. Students are involved in regular course work as reporters, camera persons, editors, writers and producers. They will use sophisticated production equipment and software.

Core courses and electives include reporting and writing for television, tools of television journalism, advance television news management and television news magazines.

Visits of VIPs

The Collector of Krishnagiri, Shri Mangat Ram Sharma, IAS, visited our projects in July 2004.

The family of A.T. Ranganna, Chairman, Karnataka Renewable Energy, Bangalore, came to see Shanti Bhavan in July.

M.Sama Reddy, Manager (Agri), Indian Bank, Dharmapuri, and
R. Raj, Manager, HO, (Agri), Indian Bank, Chennai, visited our projects in July.

M. Muthuarasu, Indian Bank Circle Office, Kancheepuram, came in July.

Sandeep Singh, Laguna City, Kowloon, Hong Kong visited Shanti Bhavan in September 04.

Ravindra Shete, Area Manager, Bosch Power Tools, MICO, Bangalore, visited Shanti Bhavan in September.

Medical Doctor at Baldev

St. John's National Academy of Health Sciences has recognized our medical center as a rural bond center for their medical graduates serving in medically underserved areas. Under this program, Dr. Nikhil Abraham, a graduate of St. John's Medical College, Bangalore, has joined Baldev Medical & Community Center, as a resident doctor. Dr. Abraham will be involved in our community outreach programs besides being responsible for all medical and clinical matters. We wish him all the best in his work with us, and we hope he will be with us for two years to fulfill his rural service tenure.

Women's Empowerment Program: Expansion of Farm to 150 acres

Baldev Farms has been expanded to 150 acres to employ more women farmers and to increase the output of bananas. Young rural women are being trained to drive tractors, handle machinery, to implement farming techniques such as drip irrigation, use of plant nutrition, and in personnel and financial management.



NASA visits Shanti Bhavan

June 23 rd, 2004 was a red-letter day for Shanti Bhavan.
Our children and staff were over the moon with excitement to welcome Mr. Jean-Pierre Harrison , husband of the late Astronaut Kalpana Chawla, and Astronaut Dr. Sandra Magnus. Kalpana Chawla's father also came. Craig A. Tiedman, International Programs Specialist, NASA, and officials from the U.S. Consulate in Chennai accompanied the V.I.P.s.

Our children and teachers had worked on projects about space and astronomy for ten days prior to their visit. When our eminent visitors entered the school building, children and staff, including preschoolers wearing Martian headgear, greeted them with a burst of applause. The children's project models were on display. A styrofoam rocket bearing the world-famous NASA initials surprised our delighted visitors.

Dr. Sandra Magnus outdid herself at the PowerPoint presentation in the school gym. She demonstrated an astronaut's position during launch, how she sleeps in her sleeping bag, and how she bathes and eats, apart from her duties on board. Mr. Jean-Pierre Harrison spoke about Kalpana Chawla's life and passed around two posthumous awards that were presented to him. One was the U.S. Congressional Medal of Honor, and the other from our ex-Prime Minister, Shri Atal Behari Vajpayee. Individual children were invited to ask questions and were rewarded with badges and stickers. Photo souvenirs were handed to all. Lastly, our visitors posed for photographs with all children and staff.

It was a historic occasion that the children will never forget.

Visit by Tom Friedman, NY Times

Sometime in late February 2004, our IIJNM faculty requested three-time Pulitzer winner and renowned journalist, Tom Friedman, to address the 'J' students and faculty at our IIJNM campus lecture hall. Mr. Friedman was in Bangalore to cover the IT boom and its implications for the Indian economy, in particular, the Indian middle class, and to get his finger on the pulse of the feel-good mood in India at the time. Before he addressed the students, he was received formally in the Dean's office by Dean Abraham George and senior faculty. Within minutes of meeting Dr. George, Mr. Friedman decided that he would take up Dr. George's invitation to see another side of India – 'India Untouched' – the title of Dr. George's book on rural poverty which was about to be released.

Mr. Friedman told the students how he landed up at their campus. Everyone was delighted with one of Mr. Friedman's opening asides, "I'm a sucker for journalism students …." He went on to share his personal experiences of how he became a journalist. He made the point that no matter how "good" a journalist might be, there is no substitute for solid homework. He made several time-honored points about commitment, dedication, "telling it like it is," and so on. Since he had decide to undertake the hour-and-a-half drive to Shanti Bhavan, he decided to forego lunch with faculty and staff, much to everyone's disappointment.

Shanti Bhavan was delighted to welcome Tom Friedman even though there was no prior warning of his visit. We were proud that Mr. Friedman saw our campus as it is to tell it "like it is." Our staff and children are always happy to see visitors, and Mr. Friedman asked some of our children in a computer class what they wanted to be when they grew up. Imagine our surprise and delight when that 5-minute segment was featured on Discovery Times Channel in June! More than the thrill of appearing on world television, The George Foundation was flooded with letters and offers of goodwill, volunteer work, and even financial help. A few Indian newspapers subsequently visited Shanti Bhavan to tell our story that had appeared in Mr. Friedman's syndicated column in The New York Times. When Mr. Friedman was later informed about this, he said he couldn't have been happier. To cap it all, Mr. Friedman's daughter, a Yale student, wishes to volunteer with us next year. The children and staff clapped loudly at school assembly when they heard this bit of news.

We would like to place on record our gratitude to Tom Friedman for making us known around the world. Recognition of Dr. George's philanthropic vision and work will hopefully bring financial support in partnership from individuals and organizations of goodwill and a desire to help those in need. In unexpected ways, some outside help may come one day when we continue to do honest hard work to help the needy. Read article

Academic Accredition

Shanti Bhavan is affiliated to The Council for Indian School Certificate Examination, New Delhi. The Council inspected Shanti Bhavan in Jan 2004.


(June - August 2003)

Visitors

Lieutenant General Narendra Aul, AVSM and Brigadier Jose Manavalan Commandant Madras Engineer Group & Centre, Officers and Ladies visited The George Foundation projects.

Their visit was for a duration of two and half hours. The Madras Sappers made a presentation of sports equipment for the children of Shanti Bhavan.

Mr. Jude Devdas, Chief Operating Officer and the Principal made informal presentations at our projects sites. The officers and their wives were suitably impressed with our efforts. All appreciated the
noble vision and goals of the Founder & Benefactor, Dr. Abraham George. They also commended the dedication of the staff of all the projects.

Dr. George, as an ex-defence services officer himself, decided to allot two seats, one each for a boy and a girl, each year to children of widows of ex-servicemen.

12 June 2003

Letter from Brigadier Jose Manavalan, Commandant,
Madras Engineer Group & Centre.

Dear Mrs. Law

1. Reference your letter dated 16 June 2003

2. I am writing to convey my sincere thanks to you and your dedicated team at Shanti Bhavan, for a very educative and inspiring visit. The George Foundation has embarked on a praiseworthy mission. The staff of Shanti Bhavan need to be complimented for their sincerity and devotion to their duty.

3. On behalf of Lt Gen Narendra Aul, AVSM, Colonel Commandant The Madras Sappers and all others. I wish to convey our good wishes and success in the years to come for this unique project. I would also like to convey our sincere thanks to Dr. Abraham M. George for his offer to allocate two seats each year to widows of service men. I will do my utmost to utilize them.

4. I look forward to further strengthening this bond between the Madras Sappers and Shanti Bhavan.

5. I am enclosing a CD on " The Enduring Legacy" and a prayer which you may show the children.

With Warm Regards
Yours sincerely

Manavalan


(September - November 2003)

Resignations
Mr. Gerard Devdas, Director Baldev Farms, left The George Foundation in May 2003. Dr. Maya Mascarenhas, Director Health Projects, left in June 2003. Both cited personal reasons for leaving the work of the foundation. Neither one has been involved in the activities of the foundation since those dates. Dr. Saikat Kanjilal left at the end of August, to pursue higher studies. We thank them for services rendered and wish them well.

Personnel
Mr. Jude Devdas has undertaken the management of Baldev Farms with Dr. Abraham George, in addition to his responsibilities as Chief Operating Officer. Mrs. Gracie Thomas has taken over as Manager of Baldev Medical & Community Center, in the absence of a medical doctor. The good news is that Dr. Rajasekhar, our children's former pediatrician, has expressed a desire to come back to work with us after a two-year stint in Nigeria. We are happy with the news particularly as we have incurred heavy costs for treating, and transporting children to St. John's Medical College Hospital for small medical problems.

Celebrations
Our very first banana harvest of Baldev Farms was commemorated with special prayers and offerings in the village temple of Baliganapalli. The first harvested bunch of bananas was placed before the deity in the temple. After the puja, the labourers and poor people of the village were presented with a grand meal and sweets in the temple courtyard. On the same day, special prayers were offered in a home for destitute poor. Symbolic offerings of farming implements, bananas and banana plants were made. A special breakfast was provided to the people residing at the home. In both places, the gesture was greatly appreciated.

The Hindu festival of Diwali was celebrated with grand fireworks for the benefit of the farm labourers and their families, staff of Baldev Medical Center and staff and children of Shanti Bhavan. Each person had several chances to play with the safer lights and crackers. The celebration generated much goodwill and bonhomie. The children and staff of Shanti Bhavan organized a special thank you to Dr. Abraham George and Jude Devdas for making it happen.

Visitors
The Sub Collector of Hosur, Mr. Lalvena visited our projects including Shanti Bhavan the day after he assumed office. He was highly impressed and has promised to give all assistance to us. The Chairman of Dharmapur District visited all our projects and was happy to note the commendable work the foundation is doing as an NGO. He has promised to install one borewell for Shanti Bhavan school children, street lighting facilities on the main road leading to Baliganapalli and Shanti Bhavan, and to develop a road through Baldev Farm II which will lead up to Alur Village.

Status of Projects
All projects have been progressing with work planned even in the absence of directors for the farming and medical projects, as well as grave financial constraints. The additional burden has been borne by Dr. George and Jude Devdas with the help and cooperation of second-level managers and supervisors. We are still in the process of identifying and selecting suitable persons for these positions. All budgets have been tightened. We need recognition and financial assistance of credible organizations to carry our projects forward without undue strain on one individual's financial resources. Interested individuals are welcome to contact our head office or visit our website for details of how they can contribute to our humanitarian work.

Waste Management
All TGF projects proactively utilize waste in all forms - garbage, kitchen organic waste, sewage, and agricultural waste for conversion into compost. We are working at utilizing everything while maintaining a pollution-free environment.

Baldev Farms has successfully tried out one 500-ton compost pit that has proved successful and four more such pits are being planned. Dried banana leaves, stems and other such farm waste is allowed to convert to compost. Beneficial SEM (secondary effective micro-organisms) is added to the compost to ensure that it ferments into a form that is readily available for the plants. At present, we are in a two-year transition period to convert to completely organic farming. As of June 2005, the farm processes over 2000 tons of compost each month.

Shanti Bhavan is successfully managing its sewage recycling plant to feed the horticultural gardens of fruit trees and vegetables. The results are evident from the fruit harvests of our coconut and other trees in the last six months.

To enhance the foundation's sustainable integrated rural development program, we are consulting the Swiss NGO myclimate, as well as an Indian organization for its concept DESI power (decentralized energy systems India) that is a biomass gasification system. Our facility is eligible for registration under the Climate Change Convention. We are in the process of installing a renewable energy plant that will use clean technology, add value to local village communities, generate employment, and reduce the share of coal-based electricity supply. It is pollution-free, cheaper, more reliable and cleaner. In the process of implementing this plan, we will be addressing the education and women's empowerment aspects of our rural development scheme.

Goals for 2004

IIJNM needs to start a television broadcast training section for which substantial contributions would be welcome. Shanti Bhavan will hopefully get accreditation from a nationally recognized body. EDPS2000 will be recognized as a viable way of delivering basic healthcare to patients in remote areas as well as those in urban hospitals in major cities starting with Bangalore and Chennai in South India. Baldev Medical & Community Center needs a full-time doctor or at leas a part-time consultant physician as it is in demand for the health and wellbeing of the 17 villages around it. Baldev Farms will do even better with the right managerial personnel at all levels.

Significant Events (September to November 2002)

Shanti Bhavan

School Day celebrations were different from previous years because they were held on a Sunday so that parents and well wishers such as volunteers from the Latter-Day Saint Charities and others could attend. The date of the inauguration of the school, 5 July, was observed as the date of celebration from 1998 to 2001. The TGF office staff donated crackers and fireworks for our Diwali celebration.

Award-winning journalist Viji Sundaram who is also a faculty member at IIJNM, conducted taped interviews of children and staff for a London-based radio program. A team of doctors from St. John's Medical College and the Kempegowda Institute of Medical Sciences both visited and offered their help. Ms. Mrinalini Rajwar, Director of Technology for a school district in the U.S.A. held training programs for staff and children over a period of three weeks. Dr. Manish Kohli from Johns Hopkins, U.S.A. talked about his life in America and showed the children slides. The Sub Collector of Dharmapuri District also visited and expressed his appreciation of our project.

Dr. George procured high-quality paints from a U.S. paint company and the buildings on campus were given a colorful facelift. The Latter-Day Saint Charities helped us complete a multi-purpose sports arena which was inaugurated by a roller-skating display by the children, among other fun sporting events.

EDPS 2000 and Baldev Medical & Community Centre

The Bloomberg School of Public Health, Johns Hopkins University, Baltimore, and the Rockefeller Foundation initiated a six-month evaluation of EDPS 2000. Dr. Manish Kohli from Johns Hopkins came to study and evaluate the pilot project of EDPS 2000 at the Bagalur Primary Health Centre. Tests are being carried out at 8 Primary Health Centres in the Salem District of Tamil Nadu. 4 of these centres have computers and 4 do not. Successful results will win the involvement of the World Bank, and our aim is that EDPS 2000 will be applicable nationally, and internationally in low-income countries.

The Collector of Dharmapuri District has asked The George Foundation to head the Child Abuse Committee in the district. The bio-data and credentials of our key staff were sent to the Collector's office for forwarding to the government headquarters in Chennai.

St. John's Medical College, Bangalore has officially recognized Baldev Medical & Community Centre as a bond centre. Sr. Sheela successfully conducted the first delivery while the pregnant mother was waiting for an ambulance. Dr. Saikat Kanjilal from St. John's Medical College, has taken over from Dr. Nachiket Shankar as resident physician at the centre. Dr. Nachiket Shankar has left to pursue higher studies.

Baldev Farms

Baldev Farms has commenced major cultivation of banana crops on 36 acres. The aim is to develop banana as a commercial crop to the extent of 150 acres by December 2005. Advanced technology with collaboration of Israeli expertise is being used in the form of drip irrigation and sprinklers, as well as transportation in the form of 2 tractors with all fittings and accessories purchased from John Deer, 20 ton heavy-duty tippers purchased from Tata, and a mini-tractor for inter-farm transport purchased from Mitsubishi. The revenue earned from banana cultivation will be given back to the charitable projects of the foundation.

Living quarters are being set up in different farm blocks for farm managers.

The Collector of Dharmapuri District has asked The George Foundation to set up a cooperative marketing centre to help the farmers obtain better rates by avoiding middlemen.

A common kitchen for the staff of Baldev Farms and Baldev Medical Centre caters meals that are paid for by diners and subsidized by TGF.

IIJNM

2 of the second batch of students were selected for internship and scholarship in the U.S. Tamara D'Mello, the first ever Indian student, was selected for the New York Times internship from a competition of international nominees, and Vivek Gupta was selected for the Scripps Howard internship. Our faculty member, Mr. Narayanan, has been selected by the Ford Foundation for a specialization program.

Mr. Anand Sagar, an experienced journalist, joined the faculty team in time for the new semester. Mr. Sagar was awarded an international scholarship in journalism studies and was a member of the Visiting Journalists Fellowship Program at Oxford. He has been associated with several newspapers such as The Pioneer, The Indian Post, Gulf News, The Peninsula, as well as India Today. The third batch of students, 9 girls and 5 boys, from Delhi, Kerala, West Bengal, Tamil Nadu, Bihar and Karnataka enrolled in August 2002 and completed their first semester in December 2002. Evaluation of students and staff was also carried out.

Visiting luminaries included Ms. Helen LaFave, Deputy Public Affairs Officer from the US Consulate in Chennai. Ms. La Fave addressed the students and faculty through interactive sessions. She shared her experience with the press as a diplomat in India.

Adam Glenn, environmental journalist from abcnews, jointly sponsored by the International Centre for Journalists and IIJNM, conducted a series of workshops on environmental journalism in 5 major cities, Chennai, Bangalore, Mumbai, Delhi and Kolkata.


Significant Events from November 2001 to March 2002

Appointment of Senior Advisors:

Dr. George met with Justice H.G. Balakrishna, Former Judge, High Court of Karnataka, and Mr. Bhattacharya, former Chief Secretary of Karnataka to enlist their support for the work of the Foundation.

Women's Empowerment:

The farming project produced a good crop of high quality bell pepper amounting to 138 tonnes. As a result, two multinational companies have come forward to have a business tie-up with us. One of the foreign companies has appointed a full-time representative to experiment growing different varieties of gherkin crops.

26 acres of land have yielded good quality vegetables, and another 10 acres have yielded good quality fruits. A further 75 acres are being worked on from 1 March 2002 to grow more high quality vegetables and fruits.

A tractor has been acquired from the John Deer Company. A new bulldozer and tipper has been bought from Ashok Leyland. These two machines will be used for Shanti Bhavan, and for new projects such as brick making and farming, and for community service to improve sanitation and drainage in the villages of the area.

Baldev Medical & Community Centre:

Out-patient care has commenced with a team of doctor, nurse, 3 social workers, and support staff who all stay full-time at Baldev. The social workers work with the local village communities. They will be holding a celebration of International Women's Day on 8th March with Women's Self-Help Groups started by Baldev as co-hosts.

EDPS2000:

The Johns Hopkins School of Public Health has agreed to undertake an evaluation of the EDPS Diagnostic and Management System, and the feasibility of its implementation in the government Primary Health Centres. St. John's Medical College will monitor the EDPS Implementation study at the Bagalur PHC, and the Kempegowda Institute of Medical Sciences has given its consent to evaluate the EDPS Diagnostic performance.

Project Lead-Free:

Dr. George met with Sunita Narayan, Director, Centre for Science and Environment, New Delhi, and Pranay Lal, Coordinator of Health and Environment Unit, CSE, to apprise them of the latest developments in this project. The activities of the National Referral Centre for Lead Poisoning, a collaboration of St. John's National Institute of Health Sciences and The George Foundation, were also presented. The CSE assured us of their support.

Shanti Bhavan:

In consultation with a waste management organization, we will be setting up a treatment plant for processing and recycling waste water for agriculture.

The first crop of coconuts was harvested after three years.

The design for the married staff quarters has been approved. Accomodation for different categories of managers will proceed in a phased manner.

Indian Institute for Journalism & New Media:

Several new hires have been taken for IIJNM. The first batch of students has got good placements in reputed papers and publications.


Volunteers:

The George Foundation welcomes Gary and Maureen Totland from LDS Humanitarian Services as volunteers. Gary has been extensively involved in jumpstarting, conceptualizing and fundraising for various humanitarian projects in the U.S. The Totland's initial personal contribution has been the refurbishing of their room in the guest house at Shanti Bhavan.

In addition, the Totlands have set up audio-visual equipment to undertake health education training programs of women, at Baldev Medical & Community Centre. This equipment will also be used for the Women & Child Development programs at Baldev. This is also from the LDS Humanitarian Services.

Maureen Totland has offered to set up a tailoring unit for girls and young women adjacent to Baldev medical & Community Centre.

Donation:

Nike has donated several thousand pairs of shoes for the children and staff of Shanti Bhavan.

A paint company from the U.S. donated several tins of paint for the exteriors and interiors of Shanti Bhavan.

Celebration:

Dr. George attended Sri Sri Sri Balagangadharanatha Swamiji's birthday celebrations at Hassan, near Swamiji's home place. Swamiji was very happy with the gift of a walking stick from Dr. George. He listed several uses of a walking stick in Sanskrit to express his appreciation of the thoughtful gift.