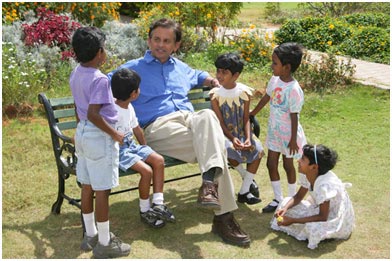 Dr. George with children
The George Foundation was established in January 1995 in Bangalore, India for the purpose of launching a unique project to help shape the future of a select number of very poor children of India - to mainstream them into wholesome, productive members of society.
Project Shanti Bhavan, launched in August 1997, focuses on children in their formative years, starting with 4 year olds and seeing them through age 17. Children who are not physically or mentally handicapped are selected as it is recognized that caring for the handicapped requires more funds and expertise than would be available for this project.
The project started with 48 children and will eventually enroll up to 336 children. The project targets children from the poorest families, and orphans, who have a reasonable chance for success based on their level of intelligence. Shanti Bhavan, therefore, is a boarding school for children of deprived backgrounds. Given proper care, support and educational opportunities, these children will have a good chance of being successful in life. It is our belief that only through institutions such as Shanti Bhavan that the cycle of poverty and social deprivation can be overcome for most poor people. The multiplicative impact of major successes for those who are trained in Shanti Bhavan and their families will be permanent for generations.
The project is intentionally limited in scope so that it can be clearly focused, intense, and has a high potential for success. The overall goal of the project is to make a positive difference in the lives of poor children and to encourage rural education in the following ways:
to break the cycle of poverty and disadvantage, and
to enable the children to become well rounded, achieve their full potential, and become fully productive individuals.
The project is grounded in the belief that the deleterious consequences of extreme want can be overcome if the problems are tackled in the early stages of a child's development. It is further believed that children of poverty are no different than more fortunate children if they are given a chance to dream and to aspire, and are supported through education and constant encouragement to realize their full potential.
Shanti Bhavan, therefore, has three main objectives:
To provide the children a comprehensive residential program to meet their emotional, social, health, and educational needs, build character and self-esteem, and strengthen their ability, through skills and mental discipline, to succeed in life.


To prepare the children to succeed not just in their immediate community but in the global marketplace.


To provide training and assistance to the parents of the children so that they can play a positive role in the growth and development of their children.
The following is a break down of some of the significant aspects of the project:
Shanti Bhavan will serve as a symbol of hope to children from socially and economically deprived backgrounds, and a means to attain their dreams. The programs at Shanti Bhavan address the development of every aspect of a child's personality -- his or her emotional development, mental and physical fitness, and cognitive growth. The curriculum is well planned and executed, with emphasis placed on individualized attention. The project is of a manageable size and can, therefore, be clearly focused and intense. Shanti Bhavan aims to achieve results and not to be a mere provider of services. Shanti Bhavan will conform with all national and local laws and regulations, uphold secular practices, and will at all times promote the highest moral and ethical standards among both its staff members and the children who will call it home.